The challenges of cloud-first omics
BioStrand
02.16.2022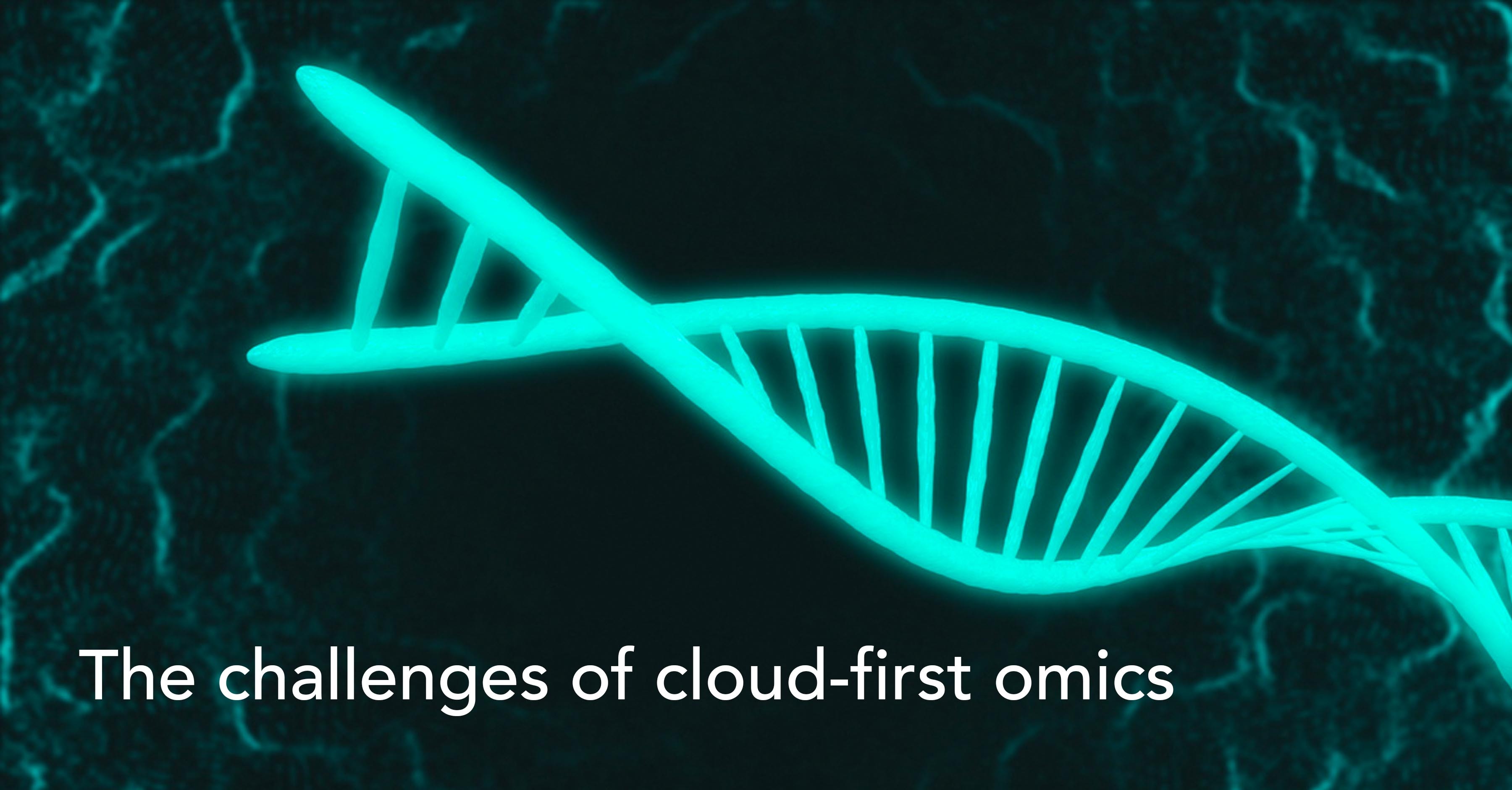 The increasing availability of a range of powerful, specialized and affordable cloud-based services have steadily shifted enterprise technology investments from expensive on-premise data centres to a cloud-first approach to IT consumption.
And bioinformatics and omics research have all the characteristics to warrant a cloud-first strategy.
The decrease in cost and the increase in efficiency of NGS technologies has resulted in a sustained avalanche of valuable data that is just increasing the pressure on downstream bioinformatics analysis. The fact that raw sequencing data apparently doubling every 18 months surely imputes a mandatory corresponding investment in downstream analytics just to keep up with the pace of data generation. In this context, cloud-first investments make more sense than continuous on-premise expansions.
Moreover, omics data is one of the best representations of big data – not only is it big and fast, but it is also heterogeneous and multidimensional. The availability of rich multi-layered NGS data has made omics research a multi-disciplinary and sophisticated computational practice that requires a constantly evolving breed of bioinformatic solutions that enable research across multiple biological layers and dimensions.
Here again, a cloud-first approach that facilitates instantaneous pay-as-you-use access to a constantly upgraded repository of the latest best-in-class analytics technologies has its distinct advantage.
Finally, the pay-as-you-use feature for cloud omics opens up access to the latest technologies to every interested individual and institution, which can help scale downstream analysis resources to cope with the pace of data generation.
However, there are several challenges, unique to both the cloud computing model and to omics research, that have to be considered in order to ensure a secure, cost-effective and productive omics cloud.

Top three omics cloud challenges

Privacy & Security
Despite the rapid and substantial evolution of cloud computing over the past decade, a significant majority of cybersecurity professionals remain moderately to extremely concerned about public cloud security. And what's dominating their concerns is the misconfiguration of cloud platforms, followed by the exfiltration of sensitive data.
The accelerated adoption and usage of cloud services during the current pandemic has further amplified the urgency of improving the security of cloud services and cloud-native applications. For omics clouds, the biggest challenge is to balance the imperative of harnessing the computing potential of cloud models to address the gap between data generation and data analysis with the security and privacy concerns of these models.
For omics research organisations, the emphasis has to be on thoroughly vetting potential cloud service partners and building a clear understanding of the documentation defining the shared responsibility model delineating cloud security responsibilities.
The approach to cloud security will also be defined by the type of cloud service – SaaS, IaaS or PaaS – being consumed. For omics research organisations, specific attention has to be on reviewing the potential privacy risks and ensuring the privacy and security of extremely sensitive human genome data.
Moreover, as healthcare research expands across genomics, non-omics, clinical and biomedical data, there has to be a robust data management policy with intelligent authentication, authorisation, access control strategies, and behavioural analytics to track access to data and encryption of sensitive data at rest and in transit.
Over and beyond integrating advanced technologies and security best practices, the focus has to be on creating a cloud-based security culture.

Hybrid IT environments
According to a recent State of the Cloud report, multi-cloud and hybrid dominate the choice of cloud models with the average enterprise using 2.6 public and 2.7 private clouds.
There can be several advantages to integrating public and private clouds with on-premise IT to create a unified, flexible and distributed computing environment. It allows companies to selectively invest in best-of-breed cloud and on-premise capabilities that best serve technical and strategic priorities. It enables them to fine-tune workload distribution to ensure optimal compute resources for every workload.
The hybrid model promises more flexibility and agility to quickly adapt to changing business conditions. And in the case of data-sensitive industries and applications, like genomics research, for instance, the hybrid cloud may be the best framework for harnessing the benefits of cloud adoption while complying with data residency and sovereignty regulations.
The hybrid model can also pose several data management challenges, especially for big data practices like genomics and bioinformatics. For example, the simple task of storing and sharing data across a distributed hybrid environment can have an adverse impact on data availability and redundancy, application performance, data security, and cloud computing costs.
However, the hybrid and multi-cloud environment is already evolving into a distributed cloud model that by definition emphasises the pertinence of physical location in the delivery of hybrid cloud-delivered services. For instance, the distributed model now makes it possible for businesses with stringent data residency requirements and sensitive workloads to scale their on-premise capabilities by accessing public cloud services through a set of consistent APIs.

Portability & Interoperability
With the hybrid cloud declared an inevitability for most enterprises, the need for seamless interoperability has never been more critical.
However, hybrid cloud architectures often become more complex over time, thereby diminishing visibility as well as interoperability. The challenge to ensuring optimal interoperability and visibility is to shift from a siloed approach to hybrid cloud management to an integrated model that enables holistic governance.
Exponential volumes of heterogeneous omics, clinical and biomedical datasets generated by different platforms already face several challenges due to the paucity of interoperable integration frameworks for their analysis.
Take precision omics, for instance, a research area characterised by complex, heterogeneous and multidimensional big data that is predominantly disintegrated and non-interoperable. The broad approach to streamline data integration and interoperability for precision omics has been to apply the FAIR Guiding Principles in order to add metadata to data and then link every data element to a common vocabulary or ontology.
However, the availability of several hundred ontologies has created a new challenge to make all these ontologies interoperable.
Given the fragmented nature of current bioinformatics analytical frameworks and the disintegrated, non-interoperable characteristics of omics data, the challenge is to ensure that cloud-based omics does not exacerbate existing portability and interoperability challenges and add yet another layer of complexity.

The BioStrand omics cloud advantage
The BioStrand cloud-based solution combines the pay-as-you-go advantage of the cloud with high performance, scalability, and security.
Our proprietary biological discovery, HYFTs™, automatically normalises and integrates all research-relevant information, including omics and non-omics data, text and sequence data, and proprietary and public data, to create a single source of truth.
A unique universal schema ensures that heterogeneous genomic data and metadata can be used across multiple platforms, techniques, and tools. BioStrand's hyper-scalable technology, unified analytical framework, and AI/ML-based analytical tools and techniques enable researchers to intuitively synthesise knowledge out of petabytes of biological data.
And there are two enterprise deployment models to choose from – either via a web-based UI for domain specialists without the technical expertise, or via CLI/API for more advanced users who require complete programmatic access and control.
So, drop us a line if you want to take your omics research to the cloud without having to deal with all the challenges and complexities.
Tags:
Bioinformatics
,
Omics analysis
,
Cloud computing
Subscribe to our blog: