Accelerating R&D and innovation in life sciences
BioStrand
03.02.2022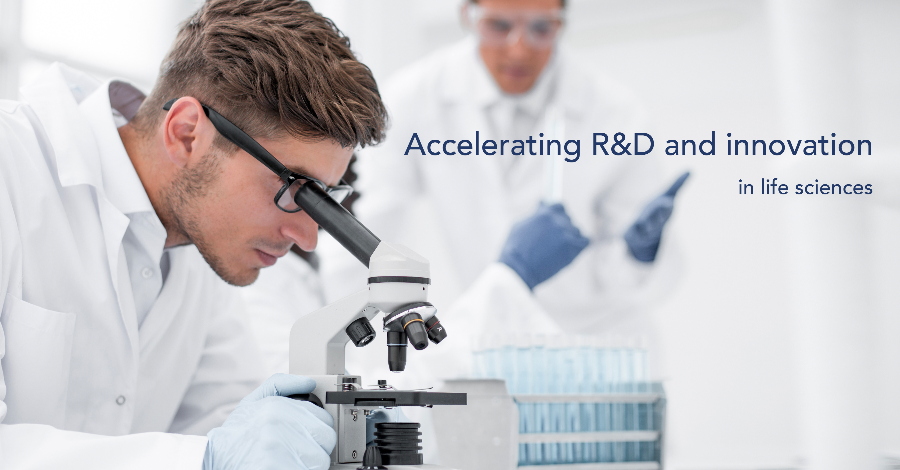 The COVID-19 pandemic catalyzed the global life sciences sector into a new normal. The industry as a whole transitioned from a conventional inward-looking model to drive rapid innovation based on technology adoption and collaboration.
The entire sector came together, combining individual contributions with collective action to accelerate the development, manufacture, and delivery of vaccines, diagnostics, and treatments for COVID-19.
There was a notable increase in co-developed assets with collaborations and partnerships accounting for almost half of those in the late-stage pipeline. The industry also demonstrated the ability to adapt and innovate conventional R&D models in order to respond to the demands of the pandemic.
The focus now has to be on building on the learnings and sustaining the momentum from this generational and disruptive experience. Even though the life sciences R&D function more than adequately proved its mettle, there are still a few broad challenges that need to be addressed as we move forward. Key challenges in life sciences

Key challenges in life sciences R&D

Technology
The life sciences industry has long relied on point solutions, often adapted from generic solutions, that have been designed to address specific, discrete issues along the R&D pipeline. This has resulted in many R&D organizations having to grapple with multiple loosely connected technologies and siloed legacy systems, each of which focuses on an isolated function rather than a singular strategic outcome.
This patchwork integration of disparate solutions will also be unable to cope with the distinctive challenges of life sciences research in the big data age. And finally, these are not frameworks that are easily adapted or upgraded to include emerging technologies such as ML and AI that are becoming critical data-intensive, outcome-focused, patient-centric research.
The focus here has to be on reimagining the role of technology in life sciences R&D with the focus on cloud-first modular architectures and integrated user-friendly solutions that facilitate desired research outcomes.

Data
Rapid innovations in NGS technologies have resulted in the exponential growth of genomic data that the life sciences R&D organizations have to deal with. In addition, there is the ever-expanding catalogue of experimental data sources, including omics data, omics subdisciplines, EHRs, medical imaging data, social networks, wearables etc.
Data-driven R&D, therefore, has become both a challenge and an opportunity for the life sciences industry. The big data processing capabilities of ML/AI technologies have made them a critical component of most modern R&D pipelines. However, the process of scaling, normalizing, transforming and integrating vast volumes of heterogeneous data still remains a significant bottleneck in biological research.
As a result, the life science industry is currently facing a data dilemma wherein the imperative for the democratization of AI to enable value at scale may be being stifled by the reality that 50% of the time is still spent on data preparation and deployment.

Productivity & Innovation
The 2020 edition of Deloitte's annual analysis of the returns on R&D investments of a cohort of biopharma companies found a small uptick in their average IRR, from 1.5 to 2.7, suggesting the reversal of a decade-long decline in R&D activity. By 2021, the IRR had improved further, from 2.7 to 7.0, representing the largest annual increase since the study began in 2010.
As Deloitte emphasized, even though the pandemic had accelerated R&D innovation, sustaining it would require expanding investments in digital technologies, data science approaches and transformative development models.
Moreover, the year-on-year decline in the average cost to bring an asset to market was mainly down to an increase in the number of assets in the late-stage pipeline and even though average cycle time had improved slightly it was still above pre-pandemic levels.
The challenge now will be to move beyond incremental change and embrace the full-scale transformation of the R&D pipeline in order to boost innovation and productivity.

Regulation
The growing volume of regulatory legislation, often cited as a reason for lower R&D pipeline yields, is emerging as a major challenge for life science organizations. As a result, safety, regulatory, and compliance functions now have to account for a broad range of intricate and complex requirements that vary by market and regulator.
For instance, the different governments have different evaluation requirements, from Health Technology Assessment (HTA) appraisals and health economic data to mandated reductions in price. In Europe, life sciences companies are also facing the implementation of comprehensive clinical trials regulation as well as compliance with GDPR.
As a result of the ongoing evolution shift of the regulatory regime, conventional compliance technologies and processes may no longer be enough to assess the risk or ensure compliance with emerging legislation.

Talent
The life sciences sector has witnessed a significant transformation in the role of the HR since the onset of the pandemic. Over half of the human capital and C-suite leaders in the sector also cite talent scarcity as the factor with the most impact on their business.
The life sciences industry requires a rigorously unique talent deployment model. According to a 2021 Life Sciences Workforce Trends Report, high-skill positions account for nearly half (47%) of all life science industry employment, compared to just 27% for all other industries. The life sciences also have the highest concentration of STEM talent, one in three employees, in comparison with all industries, one in 15 employees.
For life sciences companies, the challenge is not only to compete with conventional industries for highly-skilled STEM talent but also to attract specialist sector talent, such as computational biologists and bioinformaticians, away from deep-pocketed technology companies.
And the battle for talent seems to have begun in earnest. In the US, for instance, life sciences companies are embracing skyrocketing real estate costs in key life sciences clusters just to give themselves an edge in the talent war. In the UK, the government has launched a Life Sciences Future Skills Strategy report in order to strategize how to develop future talent for the country's life sciences sector.
For the life sciences industry, the challenge will be to adopt new models of working that will help them attract, engage and retain the talent required for future growth and innovation.

Towards data-driven patient-centric R&D
The life sciences industry is currently at a critical point of inflexion. The COVID-19 experience has highlighted the value of technology adoption, collaboration and innovation around R&D models.
However, there is still significant progress to be made in terms of addressing cost and productivity inefficiencies in R&D pipelines. Concerted investments in technology, data management and talent can help address these issues and transition the sector to a truly data-driven patient-centric approach to R&D.
Tags:
R&D
,
Life sciences data management
Subscribe to our blog: